Demonstrating the importance attached to relations between close neighbours and friends, the recently concluded high pitched visit of Honourable Prime Minister (HPM) Sheikh Hasina to India saw "important decisions" being jointly agreed upon between the two countries. During the bilateral talks both HPM Sheikh Hasina and her Indian counterpart, both leaders emphasised greater collaboration in the spirit of friendship and partnership for prosperity and development of the region. Futuristic Areas of Cooperation include first visit of a Start Up delegation from Bangladesh to India, Joint Conservation of the Sundarbans, augmenting cooperation in peaceful use of outer space, green energy, peaceful uses of nuclear energy, and technology enabled services in finance, health and education.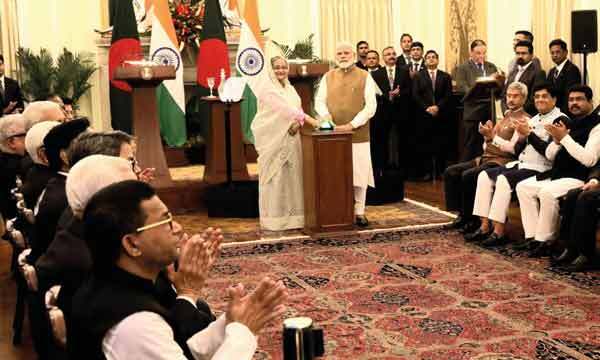 In a further boost to the bilateral ties, Bangladesh and India signed seven MoUs demonstrating cooperation in a number of areas including water sharing of the Kushiyara River. One of the signed MoUs is on withdrawal of 153 cusec water from the Kushiyara River by Bangladesh under upper Surma-Kushiyara project, Sylhet via Rahmipur. Another MoU was signed of scientific cooperation between Council of Scientific and Industrial Research (CSIR), India and Bangladesh Council of Scientific and Industrial Research (BCSIR). The other MoU was signed between National Judicial Academy, Bhopal, India and Supreme Court of Bangladesh. HPM Sheikh Hasina and her Indian counterpart Narendra Modi witnessed signing of the bilateral instruments after holding bilateral talks at Hyderabad House in India's capital city as the two countries seek enhanced cooperation.
India's offer of free transit will expand the regional and sub-regional market for Bangladesh's exporters since it would allow them to ship goods to countries such as Nepal and Bhutan, according to media reports. New Delhi has offered the free movement of goods facility via its territory during Prime Minister Sheikh Hasina's visit to the neighbouring country, according to the joint statement issued on September 7. The transit facility will also create scope for exporters to diversify markets and products, vital for Bangladesh as it is set to lose duty benefits in export destinations following the country's graduation to a developing nation in 2026.
External Affairs Minister of India Dr S Jaishankar has said Father of the Nation Bangabandhu Sheikh Mujibur Rahman, for them in India, is iconic - a man of action, courage and conviction. "He (Bangabandhu) is as revered and remembered in India, as he is in Bangladesh," he said. Jaishankar was speaking at the award-giving ceremony of the "Bangabandhu Sheikh Mujibur Rahman Student Scholarship" in New Delhi. HPM Sheikh Hasina conferred the first-ever Bangabandhu Sheikh Mujibur Rahman Student Scholarships to the direct descendants of soldiers, and officers of Armed Forces of India who were martyred or critically wounded during the historic Liberation war of 1971.
The World Bank (WB)'s outgoing country director Mercy Miyang Tembon commended Bangladesh's overall socioeconomic development including women empowerment under the leadership of HPM Sheikh Hasina. She expressed her appreciation while she paid a farewell call on Prime Minister Sheikh Hasina at the latter's official residence Ganabhaban in the capital. She also applauded Bangladesh premier for rolling out Ashrayan Project (home for homeless), a scheme under HPM Sheikh Hasina's personal initiative that seeks to ensure home for all. In reply, the premier said both husband and wife are the owner of the house being given under the project, and they are utilizing the land in their house premises for growing vegetables.
Braving global headwinds, Bangladesh exported readymade garments worth $9.58 billion US dollar to European Union (EU) countries in five months- January to May, this year, according to a report of the European statistical agency 'Eurostat'. According to the statistics, garments exports from Bangladesh to the European Union increased by 44.95% and the country exported a total of $9.58 billion US dollar during the said period. On the other hand, after exporting bandwidth to the northeastern Indian state of Tripura, this time Bangladesh is going to export bandwidth to the state of Assam. An entity operated by the Assam state government, Assam Electronics Development Corporation Limited, has confirmed the import of 30
Gbps
bandwidth from Bangladesh.
Bangladesh has been unanimously elected a member of the Executive Committee of the Commonwealth Board of Governors for the term 2022-2024, in a further show of growing diplomatic stature of the youngest nation in South Asia under the prudent leadership of HPM Sheikh Hasina. The Executive Committee is mandated to oversee all matters related to finance, personnel and administration of the Commonwealth Secretariat. Unanimous victory of Bangladesh to the Executive Committee (ExCo) and the Accreditation Committee is a reflection of Bangladesh's deep commitment, contribution and leadership at the Commonwealth of Nations which was the first international organization where Bangladesh got membership after its independence under the prudent leadership of the Father of the Nation Bangabandhu Sheikh Mujibur Rahman.
[Sender_Name]
[Sender_Address], [Sender_City], [Sender_State] [Sender_Zip]