HPM Sheikh Hasina's 75th birthday is celebrated by her party Awami League and its associate bodies amid festivity across the country. Moreover, for the leader of the country, who lives for her people, what can be more prized than smiles, blessings and appreciation from them on her birthday? "I do pray for you. May you live long," says one of the thousands of video messages pouring in from people across the country addressing HPM Sheikh Hasina in the "Thank You, PM" campaign. Like previous years, the campaign, as part of her birthday celebration, received good wishes. According to media reports, under the watch of HPM Sheikh Hasina, Bangladesh is better poised in comparison with many other economies to overcome all the hurdles emanating from Russia Ukraine conflict, like the way this country became a top performer in Covid management.
The legacy of Bangabandhu Sheikh Mujib is now being carried forward with the able and farsighted leadership of Prime Minister Sheikh Hasina, paving the way to fulfillment of a long-cherished dream of Sonar Bangla by Bangabandhu Sheikh Mujib. Under her able leadership, Bangladesh has moved forward to a lower- middle income country and aspires to achieve a status of a developed country by 2041. Bangladesh is now well on course to achieve its development aspirations towards becoming a prosperous country and this vision document is a cherished road map of that. In this 21st century, there is one indisputable phenomenon. The pace of change is rapid, and often transformational. Over the next half-century, Bangladesh economy and society will have to cope with transformational shifts in trade and industry, in education and healthcare, in transportation and communication, and in the way we work and conduct business.
Bangladesh has made remarkable economic and development progress in the past five decades, says a new World Bank report. To sustain its growth trajectory and further accelerate the growth rate in the long term, the country needs a strong reform agenda, the report mentioned. The Country Economic Memorandum – Change of Fabric- identifies key hurdles to higher growth and proposes reforms to maintain rapid growth. The report underscores strong policy reforms in three areas critical to sustain growth: to stem the erosion of trade competitiveness, to address vulnerabilities in the financial sector, and to ensure orderly urbanization process.
Bangladesh climbed up 27 notches to rank 76th in the world in the digital wellbeing thanks to the country's performance in internet affordability, security and quality, according to the Digital Quality of Life (DQL) Index 2022. Netherlands-based cybersecurity company Surfshark released the fourth annual edition of the index on 12 September based on their study on the quality of digital wellbeing across 117 countries of the world. The index evaluated the countries on five fundamental pillars – internet affordability, internet quality, electronic infrastructure, electronic security, and electronic government. Bangladesh has significantly improved in four of the five indicators this year except for the electronic government pillar, where its position was unchanged.
Honourable Prime Minister (HPM) Sheikh Hasina has said everyone needs to understand the reality that the forcibly displaced Rohingyas are becoming a huge burden for Bangladesh and they must go back home. "They (Rohingyas) need to go back to their own country. Everyone needs to understand (the situation). ---it is not possible for us to take any more people, Rohingyas must go back," she said in an interview with the Bangla service of Voice of America (VoA) in Washington which was broadcast last week. Referring to Bangladesh's repeated call to the international community for safe and sustainable rehabilitation of the Rohingyas, she said it is impossible for a country alone to take responsibilities of such a huge population (1.2 million of Rohingyas).
Honouable Prime Minister (HPM) Sheikh Hasina has given utmost importance on dialogue to resolve crises and disputes, urging the world community to stop arms race, war and sanctions for building a peaceful world. "My urge to the conscience of the world community- stop the arms race, war, and sanctions, ensure food and security of the children; build peace," she said. The Premier made this call while delivering her speech at the 77th Session of the United Nations General Assembly (UNGA) in the UN headquarters in New York. "We believe that antagonism like war or economic sanctions, counter-sanctions can never bring good to any nation," she said, adding "Dialogue is the best way to resolve crises and disputes."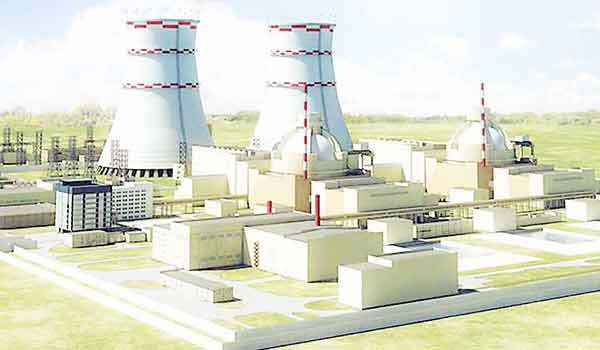 With the installation of two Bridge Cranes in the turbine compartment of Unit-2 of Rooppur Nuclear Power Plant (RNPP), the project reaches one more step closer to completion, according to media reports. The cranes will be used for construction and installation works, and for the RNPP reconstruction, repair, and upgrading during operations. The construction work of the country's first nuclear power plant at Rooppur in Pabna district is progressing fast with the support of Russia's State Atomic Energy Corporation, Rosatom. A branch of Rosatom Engineering Division- VdMU installed the cranes having a lifting capacity of 50 and 180 tons. The heaviest and largest components were installed in the design position using the Liebherr 11350 cranes with a lifting capacity of 1350 tons.
Policy on green bond financing has been formulated with a view to facilitating green focused sustainable investment of banks and financial institutions through climate change mitigation and adaptation. The country's central bank issued a new policy recently that provides low-cost, long-term loans for renewable energy. Renewable energy sector stakeholders of Bangladesh have praised the green bond financing policy, as they have been demanding such an initiative for a long time. According to the central bank, the Bangladesh government prioritizes achieving sustainable development goals (SDGs) which requires significant sustainable investment in infrastructure sectors.
The number of Bangladeshi workers who headed to the Middle East countries in search of jobs surged 177% year-on-year in the first eight months of 2022, official figures showed. The opening of the doors following the recovery of the oil-rich nations from the coronavirus pandemic and a higher income thanks to a spike in energy prices owing to the Russia-Ukraine war have boosted the economic activities in the region and lifted the demand for foreign workers. The energy price hike, which saw the oil price rocket to an eight-year high, has been credited to have pulled the Gulf countries out of a decade-long economic slump.
Bangladesh ranked 111th among 193 countries in this year's UN e-Government Development Index, according to the UN e-Government Survey 2022 by the United Nations Department of Economic and Social Affairs (UNDESA) which assessed the development over the last two years. The survey results of the 12th edition of EGDI, titled E-Government Survey 2022 (The Future of Digital Government), were announced this week at the United Nations HQ in New York. Bangladesh secured 111th place among 193 countries on the E-Government Development Index or EGDI scoring 0.5630 and 75th place in E-Participation or EPI with a score of 0.5227. It was in 119th place in EGDI scoring 0.5189 and 95th place with a score of 0.5714 according to the survey in 2020.
A total of 56,877 poor, helpless and financially insolvent justice-seekers were provided with legal assistance at government expense in six months from July to December in 2021-2022 fiscal. This information has been revealed in a report on website of National Legal Aid Services Organisation. In the six-month period, 12,797 poor, helpless and financially insolvent people received free legal aid, legal advice and information services by dialing hotline number '16430' (toll-free). After voted back to power in elections held on December 29, 2008, the Awami League took various steps to ensure justice for the poor, helpless and indigent people and it continues to do so while enactment of the 'Legal Aid Provision Act-2000', ensured legal aid at government expense to financially indigent, indigent litigants.
[Sender_Name]
[Sender_Address], [Sender_City], [Sender_State] [Sender_Zip]